Friar Foundations Home
Friar Foundations is a summer program aimed at easing the transition from high school to college ​for approximately 30 incoming Providence College students each year. Friar Foundations addresses two fundamental issues students must face when entering college — academic responsibility and social assimilation.
Participants in the program​ are normally accepted students who live on campus for five weeks for portions of July and August. During this time, the students complete credit-bearing courses, attend skills-building workshops, and partake in a host of on- and off-campus social and cultural experiences.
​Program Schedule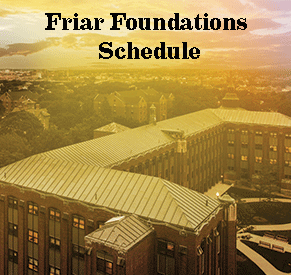 Friar Foundati​ons days start early and end late. Academics are the priority, but a fun and fulfilling experience beyond the books is just as important. The 2017 Friar Foundations program runs from July 3 to August 4.
Below is an overview of the program schedule.​
Morning classes 4 days per week
Night classes 2 days per week
Supplemental workshops one morning and one
evening each week
Quiet study and/or tutoring daily
Social and personal time daily
Community service, intramural sports, and an off-campus trip or event each week
Participant Responsibilities
Participants are expected to meet regularly with an OAS staff member during the summer program and on a regular basis for the entire first-year and:
successfully complete the required program courses, seminar, and workshops, and
participate in all program activities
Program Objectives
As a result of the program, participants will:
understand the educational demands and responsibilities of a PC student;
acquire the necessary academic skills to be successful at PC;
discover and understand the obligations of living on-campus in a residential community;
develop relationships with other first-year students as well as members of the College's faculty and staff; and
acclimate to the PC environment prior to full-time matriculation.